LINEAGES
Soto
VENERABLE TAIZAN MAEZUMI ROSHI, 1931-1995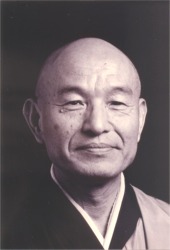 Born into a Zen temple family, Taizan Maezumi Roshi was ordained as a Soto Zen monk at the age of eleven. He lived with his parents Baian Hakujun Kuroda Roshi and Yoshie Maezumi Kuroda and six brothers at Koshinji, the family temple in Otawara, Japan. He later took his mother's family name.
He received degrees in Oriental Literature and Philosophy from Komazawa University and studied at Sojiji, one of the two main Soto monasteries in Japan. While studying at Komazawa, he lived at the dojo of the lay Rinzai Master Osaka Koryu and began koan study. In 1955, Maezumi Roshi received Dharma transmission from his teacher and father Kuroda Roshi, who headed the Soto Sect Supreme Court and was one of the leading figures of Japanese Soto Zen.
In 1956, Maezumi Roshi came to Los Angeles as assistant to Yamada Reirin Roshi at Zenshuji Temple, the U.S. Soto Zen Headquarters. He arrived in Los Angeles with an unshakeable vow to establish Zen Buddhism in the West. It was in Los Angeles that he met his third teacher, Yasutani Hakuun Roshi, and began koan study with him.
In 1967, he and his family (photo above) established the Zen Center of Los Angeles. Maezumi Roshi established several temples in the United States, including Kanzeon Zen Sangha, Zen Mountain Monastery, and Zen Mountain Center. In 1970, he received Dharma Transmission from Yasutani Roshi, and in 1973, from Koryu Roshi. Thus, Maezumi Roshi became one of few teachers to receive Inka from both the Inzan and Takuju Rinzai lineages, as well as Dharma Transmission in the Soto lineage.
In 1976, he established The Kuroda Institute for the Study of Buddhism and Human Values. The Institute publishes a book series with the University of Hawaii Press devoted to the translation of East Asian Buddhist classics. Maezumi Roshi also founded the Dharma Institute in Mexico City.
Maezumi Roshi founded the White Plum Asanga, named after his father Baian Hakujun (White haku, Plum bai). There are now over fifty teachers and Zen groups that are affiliated with the White Plum Lineage. He transmitted the Dharma to twelve successors, Roshi Bernie Glassman being his first disciple in 1977. Maezumi Roshi ordained 68 Zen priests and gave the lay Buddhist precepts to over 500 people. He was married and the father of three children.
Maezumi Roshi was instrumental in the formation of the Soto Zen Buddhist Association (SZBA) of American Soto Zen teachers. He promoted exchange programs among priests and lay practitioners between the United States and Japan. He was editor of the Zen Writing Series, recently republished as On Zen Practice: Body, Breath, and Mind and The Hazy Moon of Enlightenment (which includes his commentary on Genjokoan), both by Wisdom Publications, and Appreciate Your Life, published posthumously by Shambhala Publications.
ZENGAKU SOYU MATSUOKA-ROSHI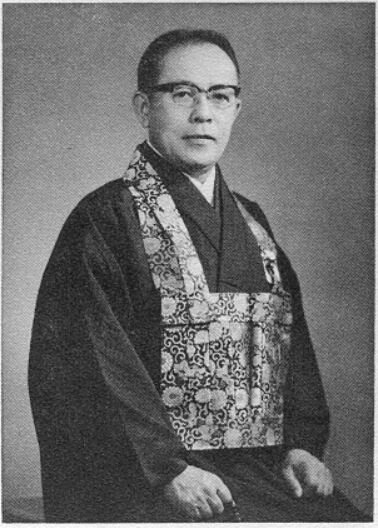 Zengaku Soyu Matsuoka-roshi is an important historical figure in the propagation of Soto Zen in the United States. Matsuoka-roshi was born in Japan, in Yamaguchi Prefecture hear Hiroshima on November 25, 1912, into a family which had a history of Zen priests dating back six centuries. He attended Komazawa University in Tokyo, where he graduated with a bachelor's degree. From there, he studied and practiced Zen a Sojiji Zen Monastery. After several years at Sojiji, he was given an assignment to establish a Zen Temple in northern Japan, on Karafuto (Sakhalin) Island. Prior to his coming to America, Matsuoka-roshi earned a Ph.D. in philosophy, from Political Science University in Tokyo.
In 1939, Soto Zen Headquarters asked him to travel to the United States, where he first became an assistant minister at the Los Angeles Zen Buddhist Temple, and later the Superintendent of the San Francisco Zen Buddhist Temple, which became the San Francisco Zen Center. After serving as a Zen Priest on the West Coast of the U.S., he attended Columbia University in New York, where he undertook further graduate study under the guidance of Dr. Daisetsu Suzuki.
Immediately following these studies, he moved to Chicago, where he founded the Zen Buddhist Temple of Chicago. In addition to teaching meditation (zazen), Matsuoka-roshi extended his activities beyond the temple. He lectured extensively to local high schools and colleges, and served as an instructor of zazen for the Chicago Judo-Karate School, and later as a special instructor at the Colorado State University and Chicago Central YMCA College. Beginning in 1968, he made a yearly tour of Japan. His initial tour was sponsored by the U.S. Embassy to Japan, during which he lectured on the topic of "Unknown America" in order to promote cultural understanding. In 1971, he established the Long Beach Zen Buddhist Temple. His life was dedicated to establishing Soto Zen in America.
He frequently quoted a saying: 'Moku-rai.' It means 'silence is thunder.' Much of what one learned from Sensei ('teacher'), as his disciples called him, was not from preaching, but from his manner, the way he expressed himself through his attitude and actions. His Zen dharma was transferred silently, naturally, through his presence. The core of his teachings is the practice of zazen, Zen meditation, and the realization of its power in daily life. His disciples lead temples around the USA and Canada, under the Silent Thunder Order. Matsuoka-roshi died on November 20, 1997.
Many of Matsuoka-roshi's teachings have been collected into two volumes of easily readable and wonderfully insightful talks.  Click here for link to purchase his works from Lulu.com.

Buddhas

Bibashi Butsu
Shiki Butsu
Bishafu Butsu
Kuruson Butsu
Kunagonmuni Butsu
Kashô Butsu
Shakamuni Butsu

India

Makakashô
Ananda
Shônawashu
Ubakikuta
Daitaka
Mishaka
Bashumitta
Butsudanandai
Fudamitta 
Barishiba
Funayasha
Anabotei
Kabimora
Nagyaharajuna
Kanadaiba
Ragorata
Sôgyanandai
Kayashata
Kumorata
Shayata
Bashubanzu
Manura
Kakurokuna
Shishibodai
Bashashita
Funyomitta
Hannyatara
Bodaiharuma

China

Taiso Eka
Kanchi Sôsan
Daii Dôshin
Daiman Kônin
Daikan Enô
Seigen Gyôshi
Sekitô Kisen
Yakusan Igen Ungan Donjô
Tôzan Ryôkai
Ungo Dôyô
Dôan Dôhi
Dôan Kanshi
Ryôzan Enkan
Taiyô Kyôgen
Tôshi Gisei
Fuyô Dôkai
Tanka Shijun
Chôro Seiryô
Tendô Sôkaku
Setchô Chikan
Tendô Nyojô

Japan

Eihei Dôgen 
Koun Ejô
Tettsû Gikai
Keizan Jôkin
Gasan Jôseki
Tsûgen Jakurei
Sekioku Sinryô
Chikkyo Shoyû
Zaisan Don'ei
Kishi Iban
Daian Shueki
Ishû Chûshin
Shunmei Shitô



Unan Toryû Ryûshitsu Chikyû
Yôshitsu Zuijaku
Kaiô Genkyo
Ryûun Eishû
Daishitsu Chôyû
Kan'oku Shuntoku
Ryûzan Shûdon
Chikurin Eikai
Chikuô Shôrin
Renbaku Shôhen
Tetsugin Shuyô
Ryôchô Shôtatsu
Tanzan Kyôhô
Chikuyhô Shuzan
Kidô Gikan 
Honkô Jissen
Chôgai Kenshû
Shôshû Gendô
Ryôzan Entô
Ittô Kankoku
Gentei Kanryû
Nannô Suiô
Bukkai Sentoyu

USA

Zengaku Sôyû Matsuoka
Hogaku Shozen McGuire
Daiho Hilbert
Shoji Sorensen
Kongo Rishiki Dennis
Ryuko Langdell

Korean lineage & Vietnamese lineage